Global Change in Polar and High Mountain Zones

24 -28 of July 2023
The course "Global Change in Polar and High Mountain Zones" aims to provide a multidisciplinary view of the impact of climate change in polar and high mountain regions. It will be taught by the leading experts in cryospheric sciences within the PolarCSIC Interdisciplinary Thematic Platform, who are carrying out scientific activities under this platform. The course, which will take place at the Pyrenean Institute of Ecology (IPE) in Jaca (Huesca), will offer students a unique opportunity to acquire a deep understanding of the impact that polar and high mountain regions are experiencing. The course is structured into four thematic blocks: Cryosphere, Biosphere, Atmosphere, and Ocean, including logistics and international scientific cooperation in polar regions. Each block will consist of oral presentations, in which each specialist will provide an overview of their research, followed by 5 minutes for students to interact with the specialist. At the end of each day, the speakers will participate in a roundtable discussion on a current topic in the polar field, where students can engage in dialogue with the different participants. The course also includes a visit to the paleoclimate laboratory of the Pyrenean Institute of Ecology (IPE-CSIC) and two practical sessions: one in the laboratory and one full-day excursion to the Izas Valley in the Aragonese Pyrenees (Canfranc, Huesca). The course is aimed at undergraduate and postgraduate students interested in expanding and/or deepening their knowledge, as well as the general public who are eager to learn first-hand about the main aspects of polar regions.
Inscriptions and guidelines can be found here
Program schedule: Curso_POLARCSIC_Jaca_2023_Programa
Transport and accommodation information to participants can be found here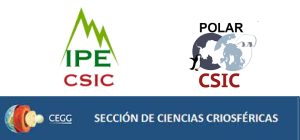 2019
CURSO UIMP: OBSERVANDO LOS POLOS: PASADO, PRESENTE Y FUTURO
4 – 8 de Noviembre de 2019
El curso "Observando los polos: pasado, presente y futuro" pretende dar una visión integral y multidisciplinar de las zonas polares de nuestro planeta. Se pretende cubrir desde la evolución geológica de los continentes ártico y antártico durante las últimas decenas de millones de años hasta los acuciantes problemas de contaminación que sufren estos territorios, pasando por una caracterización de los diversos ecosistemas terrestres y marinos que los componen. El curso se impartirá por los máximos especialistas que dispone el CSIC en ámbitos polares aprovechando la reciente constitución de la Plataforma Temática Interdisciplinar PolarCSIC bajo la cual están desarrollando sus actividades científicas de forma coordinada. Este curso ofrecerá al alumnado la oportunidad única de conocer de primera mano, y de forma ordenada y veraz, las investigaciones más punteras que está llevando a cabo el CSIC en las zonas polares y de adquirir un profundo conocimiento de estas regiones tan críticas. El curso está estructurado en 14 bloques temáticos compuestos de comunicación de 35 minutos en los que cada especialista dará una visión de conjunto de su ámbito de investigación seguidas de 5 minutos en los que el alumnado podrá interactuar con dicho especialista. Al final de cada jornada,  los ponentes participarán en una mesa redonda de 40 minutos de duración en los que se analizará un tema de actualidad en el ámbito polar y en los que los alumnos podrán establecer un diálogo con los diferentes participantes de la mesa. Además, el curso empezará con una mesa redonda con los máximos responsables nacionales en diversas organizaciones polares nacionales e internacionales que darán una perspectiva general de la investigación polar en España. El último día está prevista una ponencia de un gran especialista de reconocido prestigio internacional polar. El curso está dirigido tanto a estudiantes de grado y postgrado interesados en ampliar y/o profundizar sus conocimientos como a un público en general con ganas de conocer de primera mano los principales aspectos de las regiones polares.