Vulcanismo antártico: ¡Explora los volcanes más remotos del planeta! book out now

The spanish version of Antarctic Volcanism: Explore the remotest volcanoes of the planet! is now available in the Creative Commons repository Zenodo. You can download it at his link.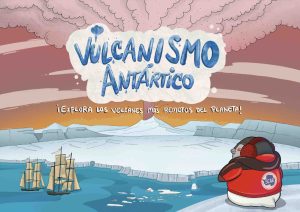 Volcanic eruptions are some of the most spectacular and most destructive natural events. Antarctica is home to more than one hundred volcanoes, some of which are entirely buried beneath the ice sheet. Some of these volcanoes are active, and have attracted many explorers and scientists. In this book you will discover where volcanoes are located on Earth, how they erupt, what the different types of volcanic activity are, and how volcanoes can be dangerous and affect life and the environment around them. You will learn how many volcanoes are located in Antarctica, which are the largest and most active, what happens when a volcano erupts into ice, and how scientists are able to study volcanoes in a place as remote as Antarctica.

Citation: Geyer, Adelina, Van Wyk de Vries, Max, Smellie, John L., Cooper, Jennifer, Di Roberto, Alessio, Panter, Kurt S., Martin, Adam P., Pompilio, Massimo, Dunbar, Nelia, & Blankenship, Donald D. (2023). Vulcanismo antártico: ¡Explora los volcanes más remotos del planeta!. Zenodo. https://doi.org/10.5281/zenodo.7690609
***
'Yo he vivido en la Antártida' book launch event

Last Wednesday, March 15, the Institute of Marine Sciences (ICM-CSIC) hosted the presentation of the book 'I have lived in Antarctica' by Laura Morrón, from Next Door Publishers. This book is a second edition that includes illustrations by Yolanda González. It narrates Josefina Castellví's experience and impressions of Antarctica.
Through the voices of the author, together with the researcher Marta Estrada (ICM-CSIC) and María Jesús Guinea Castellví, Josefina's niece, we could feel those pioneering experiences in Antarctic polar research.

Some members of our PolarCSIC platform collaborated in updating the scientific data of the first edition, such as Carolina Gabarrò (ICM), Asunción de los Ríos (MNCN), Joan Riba (UTM), Marisa Montoya (UCM), Erica Sparaventi (U. de Cádiz), Andrés Barbosa (MCNC), María Gema Llorens (GEO3BCN) and Adelina Geyer (GEO3BCN).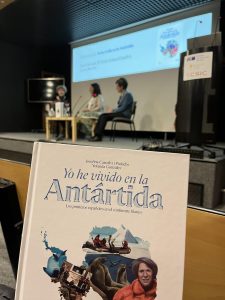 See the presentation at this link.
***
La Antártida en femenino. Investigando en lugares remotos
On the occasion of the Day of Women and Girls in Science, the National Museum of Natural Sciences (MNCN-CSIC), in collaboration with the Army and the University of Navarra, made a live connection with the Spanish Antarctic base "Gabriel de Castilla", located on Deception Island.
In this connection, four researchers, including members of the PTI Polarcsic, such as Asunción de los Ríos and Virginia Morandini (MNCN-CSIC), as well as Josabel Belliure (Universidad de Alcalá) and Patricia Martín, 1st Sgt. Communications Officer in the XXXVI Antarctic Campaign of the Army, talked about their professional life, their goals and their references.

Did you miss it? See it in YouTube: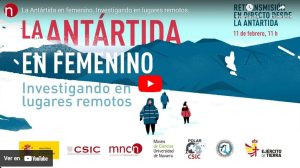 ***
The photographic exhibition 'Una mirada polar' obtain a special mention in the CSIC Awards for Dissemination and Citizen Science
The first edition of the CSIC Citizen Science and Dissemination Awards has awarded the photographic exhibition 'Una mirada polar', from the PTI PolarCSIC, with a special mention "for the visual quality of the contents", from a total of 233 works presented.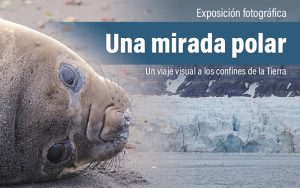 ***
The Marine Geology Resources and Extreme Environments Research Group at IGME joins PolarCSIC
We would like to welcome the new members of PolarCSIC, from the Marine Geology Resources and Extreme Environments Research Group at IGME (Intituto Geológico y Minero de España). This group, formed by Francisco Javier González, Luis Somoza, Teresa Medialdea, Esther Santofimia, Enrique López-Pamo, Ana Belén Lobato, Egidio Marino, Banca Rincón-Tomás and Wai Long Ng Cutipa, has a broad experience in the field of the marine geology (tectonic, sedimentary and mineralization processes in continental margins and oceanic basins) and in the natural resources, especially in marine mineral deposits and mining wastes. The scientific group has organized and done different oceanographic cruises in Antarctica, focusing on the research of submarine volcanism, hidrotermalism, bio-mineralization and extreme environments.
Welcome on board!