POLARCSIC Newsletter nº 12 - December 2022
The MOSAiC expedition, awarded the Arctic Circle Prize 2022
MOSAiC, the largest polar expedition in history, and the Alfred Wegener Institute (AWI, Germany) have been awarded the Arctic Circle Prize 2022 for their contribution to polar research, which seeks to ensure a sustainable and prosperous future for the Arctic.

Members of the PTI PolarCSIC from The Institute of Marine Sciences (ICM-CSIC), among other international and inational research centers, as the Institute of Space Sciences (ICE-CSIC) and the Institute of Space Studies of Catalonia (IEEC), participated in MOSAiC between 2019 and 2020.
***
Alfonso Saiz López, appointed as new member of the Real Academia de Ciencias Exactas, Físicas y Naturales de España
Since October 2022, Prof. Saiz López, is a new member of the Academia de Ciencias Exactas, Físicas y Naturales de España. This Academy was funded in 1847 during the Queen Isabel II reign, with the aim of promoting Geology, Biology, Chemistry, Mathematics and Physics.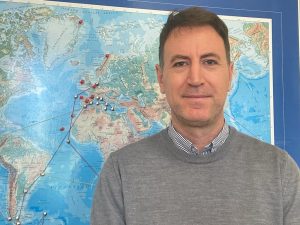 Alfonso Saiz is head of the department of Atmospheric Chemistry and Climate of the IQFR (Insituto de Química Física Rocasolano) and member of the PTI PolarCSIC.
Many congratulations Alfonso!
New POLARCSIC publications
ANTARCTICA
Noble gas isotopes reveal degassing-derived eruptions at Deception Island (Antarctica): implications for the current high levels of volcanic activity.

Alvarez-Valero, A.M., Sumino, H., Caracausi, A., Polo, A., Burguess, R., Geyer, A., Borrajo, J., Lozano, JA., Albert, H., Aulinas, M., Núñez-Guerrero, E. Sci Rep 12, 19557 (2022). https://doi.org/10.1038/s41598-022-23991-3
ARCTIC
First results of the ARIEL L-band radiometer on the MOSAiC Arctic Expedition during the late summer and autumn period
Gabarró, C., Fabregat, P., Hernández-Macià, F., Jove, R., Salvador, J., Spreen, G., Thielke, L., Dadic, R., Huntemann, M., Kolabutin, N. and Nomura, D. Elem Sci Anth, 10(1), p.00031. https://doi.org/10.1525/elementa.2022.00031

***
Sea ice fluctuations in the Baffin Bay and the Labrador Sea during glacial abrupt climate changes
Scoto, F., Sadatzki, H., Maffezzoli, N., Barbante, C., Gagliardi, A., Varin, C., Vallelonga, P., Gkinis, V., Dahl-Jensen, D., Kjær, H.A. and Burgay, F., 2022. https://doi.org/10.1073/pnas.2203468119
***
Simulation of tsunami induced by a submarine landslide in a glaciomarine margin: the case of Storfjorden LS-1 (southwestern Svalbard Islands).

Pedrosa-González, M. T., González-Vida, J. M., Galindo-Záldivar, J., Ortega, S., Castro, M. J., Casas, D., & Ercilla, G. (2022). Natural Hazards and Earth System Sciences, 22(12), 3839-3858. https://doi.org/10.5194/nhess-22-3839-2022
GLOBAL
8.35 - Deep Sea Sedimentation

Ercilla, G., Casas, D., Alonso, B., Casalbore, D., Estrada, F., Idarraga, J., López-González, N., Pedrosa, M.T., Teixeira, M., Sánchez-Guillamón, O. and Azpiroz Zabala, M. (2022). Treatise on Geomorphology, 8 960-988. ISBN 9780128182352.https://doi.org/10.1016/B978-0-12-818234-5.00129-2
Radio programme RNE "A golpe de bit" in collaboration with the Spanish Polar Committee (CPE): "La campaña Antártica Española: un ejemplo de cooperación"
***
El Español Interview - Santiago Giralt (GEO3BCN): A quién le interesa el deshielo del Ártico: la pugna por repartirse el 'pastel' que deja al descubierto.
***
El Español Interview - Santiago Giralt (GEO3BCN): La paradoja de Groenlandia: por qué ganó hielo en plena ola de calor por el cambio climático.
***
CSIC Actualidad - IACT and ICM: El calentamiento global podría contribuir a generar tsunamis en el Ártico.
***
Talks: "Una pinzellada de l'Antoni Ballester i Nolla" y "Un viatge científic a l'Antàrtida", Institut Antoni Ballester (Mont-roig del Camp), by Vanessa Balagué, Elisa Berdalet , Clara Cardelús and Magda Vila. 26 May 2022.
***
ICM in ANTARCTICA. YOUNG RESEARCHERS DAY talks, organised by the ICM Young Researchers. Institut de Ciències del Mar (Barcelona), by Vanessa Balagué and Tomás Azcárate. 27 May 2022.
***
Talk "Un viatge científic a l'Antàrtida", Institut Arnau Cadell (Sant Cugat del Vallès), Science Week 2022, by Vanessa Balagué (ICM).
***
Talk "El hielo Polar", University of Valencia, by María Gema Llorens. 24 November.
Final Master Theses
Interannual comparison of the foraging behavior of the chinstrap penguin (Pygoscelis antartcticus)

Gabriel Lopez Poveda
Universidad Pablo Olavide

Supervisor: Andrés Barbosa (MNCN)

***
Determination of personality traits in an Antarctic penguin, the chinstrap penguin (Pygoscelis antarcticus), and its influence on reproductive success

Gemma Viñallonga Corchón
Universidad de la Laguna

Supervisor: Andrés Barbosa (MNCN)
Conferences / Workshops / Field Schools
Workshop on the dynamics and mass budget of Arctic glaciers e IASC Network on Arctic Glaciology annual meeting. University of Obergurgl, Austria, 26-28 January 2023
Arctic Science Summit Week 2023. Vienna, Austria. 17-24 February 2023
Greenland Ice Sheet workshop: The stability of the Greenland Ice Sheet: Lessons from the past. Bergen, Norway. 19-21 April 2023
International Symposium on Sea Ice Across Spatial and Temporal Scales. Bremerhaven, Germany. 4-9 May 2023
23rd Karthaus Summer School: Ice sheets and glaciers in the climate system. Karthaus, Italy. 24 May to 2 June 2023.
6th European Conference on Permafrost. Puigcerdà, Gerona, Spain 18-22 June 2023
International Symposium on the Edges of Glaciology. Limerick, Ireland. 2-7 July 2023
The 28th General Assembly of the International Union of Geodesy and Geophysics. Berlin, Germany. 11-20 July 2023
International Symposium on Ice Drilling Technology. Bremen, Germany. 20-22 September 2023
International Conference on Physics and Chemistry of Ice (PCI-2023). Hokkaido University, Japan. 4-8 September 2023
Extended Deadlines:
AGORA ACR Call- Deadline for application extended to 28 December
POLARCSIC
http://www.polarcsic.es